Green waste pertains to biodegradable garden waste. Anyone with gardening or backyard maintenance experience knows about the pile of green waste that frequently remains. Sometimes, a green waste wheelie bin is all you require for disposing of small debris from your backyard project. However, for larger gardening tasks like pruning your trees or landscaping your garden, you may need to consider our skip bin hire service for efficient green waste collection.
Our green waste skip bin hire and waste disposal services are renowned for their reliability and expediency. We provide a range of different skip bin sizes and we can handle all types of waste. We guarantee prompt delivery anywhere within the Illawarra and Wollongong area. Arrange your green waste skip bin with our straightforward online booking process today!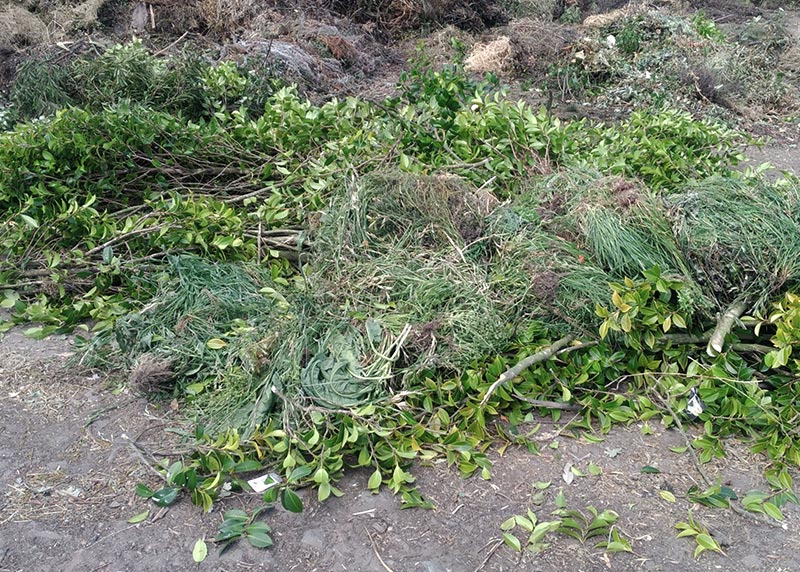 Your Trustworthy Partner for Garden and Backyard Cleanup
Embarking on an extensive garden or backyard makeover? Do you have tree branches, clippings, shrubs, or logs that require removal? We stand out in providing speedy, trustworthy, and hassle-free garden waste disposal services. Our diverse array of skip bins ensures that we can expediently deliver the perfect bin to your property, regardless of whether you're located in Wollongong or the greater Illawarra.
As a locally-founded and managed family business, our primary objective is ensuring you have an economical, dependable, and functional solution for rubbish and waste disposal. We offer skip bins in sizes ranging from 2 cubic metres to a hefty 12 cubic metres, guaranteeing that you'll find a bin ideally suited for your green waste removal requirements. To effectively dispose of abundant green waste – including leaves, tree cuttings, palm fronds, grass clippings, and branches, entrust your needs to our skip bin hire service! If you need assistance, simply give us a call or click 'book a bin' to arrange your bin delivery.
Green Waste: What You Need to Know
Please ensure you do not dispose of hazardous waste in our skip bins, such as liquid waste, chemicals, flammable materials, batteries, paint, food, and asbestos (a skip bin specifically for asbestos is required). Additionally, certain objects are commonly incorrectly placed in green waste, which the facilities are not equipped to handle. These should be avoided and include:
Brick, concrete, sand, pebbles, stones, rocks
Perishable and non-perishable food
Tree trunks and branches larger than 150mm in diameter or 1 metre in length
Why Choose Green Waste Skip Bins?
Cost and Time Effective
Our green waste skip bins offer a faster, more convenient method of waste disposal compared to standard council green wheelie bins. These smaller bins often lack the capacity for medium to large amounts of green waste and are usually collected only once a fortnight. If you need to dispose of substantial amounts of green waste, our skip bins are an ideal solution. Our team members are readily available to collect your bin, saving you time, effort, and petrol money.
Eco-Friendly
Our green waste skip bins contribute to closing the waste loop. Traditional landfill disposal prevents green waste from breaking down and results in unnecessary landfill growth. However, when processed in a recycling facility like ours, green waste can be transformed into compost and mulch, reintroducing it into the ecosystem with a new purpose.