We specialise in the efficient and environmentally friendly disposal of waste debris from the destruction of buildings, roads, bridges, or other structures. Our skip bins are designed to handle a wide variety of demolition waste, including concrete, wood products, asphalt shingles, brick and clay tile, steel, and drywall (gyprock).
Choose Tiny Tins for your demolition waste skip bin needs because we are committed to providing efficient, reliable, and environmentally friendly waste management solutions. We prioritise safe and responsible disposal, adhering to appropriate regulations for hazardous materials. Moreover, we champion recycling, turning waste into valuable resources wherever possible.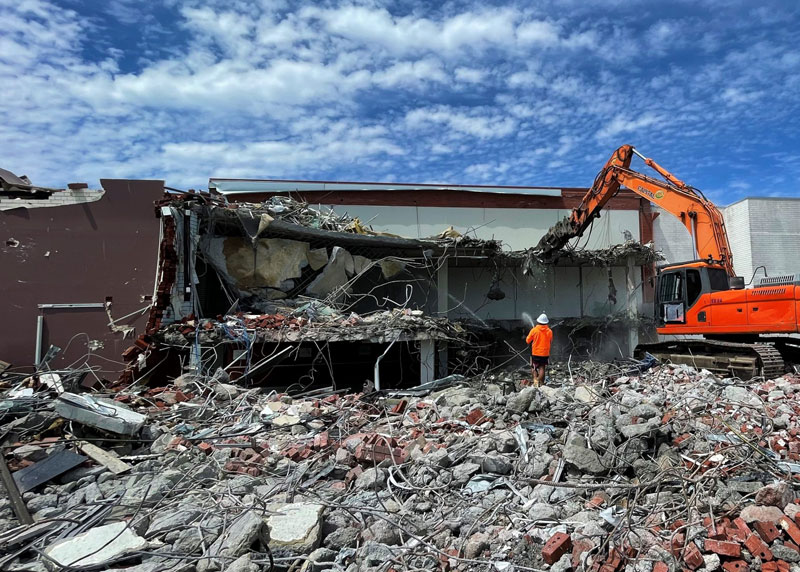 Types of Demolition Waste
What happens with Demolition Waste?
Concrete and Brick Recycling
We recycle concrete and brick by crushing it into rubble. Once sorted, screened, and contaminants are removed, the reclaimed concrete or brick can be used in concrete aggregate, fill, road base, or riprap.
Wood Recycling
Wood can be reused, repurposed, recycled, or burned as bioenergy. Our services help eliminate the need for full-size new lumber if used for smaller building components. Recycled wood can be used in pathways, coverings, mulches, compost, animal bedding, or particleboard.
Gyprock Recycling
Drywall, made primarily of gypsum, can be de-papered and added in cement production, used as a soil amendment, used in aerated composting, or recycled into new drywall. Our gypsum recycling is particularly beneficial because it prevents the release of hydrogen sulfide, a toxic gas, in landfill conditions.
Asphalt and Metal Recycling
Asphalt, from shingles or asphalt concrete, is typically recycled and used in pavement.